In 2019, thanks to the CentraleSupélec Foundation's Parcours Réussite fund, 58 Moroccan students received a living grant to complete their studies at Centrale Casablanca. This fund, financed by Joël Rousseau (ECP 75), President of NGE, has supported the students of Centrale Casablanca since the opening of the school and has thus made it possible to support the careers of 230 students in 3 years for an average amount of 1100€ per student.
Opened in 2015, Centrale Casablanca is " positioned as a university hub with a pan-African dimension, perfectly integrated into the entrepreneurial ecosystem of the Maghreb-Africa region, offering access to the international network of other Écoles Centrale and to the best scientific research in the world, with the stated objective of training today the elite leaders of tomorrow's Africa, " says Ghita Lahlou, the director of the Ecole Centrale Casablanca
Meeting with three Centrale Casablanca scholarship graduates
Slimane Adellal, Moroccan, 2018 graduate of the 1st class of Centrale Casablanca
Now a consultant in industrial project management at PMO Groupe ORLADE, Slimane recounts his arrival at Centrale Casablanca in 2015: " The class was very heterogeneous with Moroccans, Ivorians, Cameroonians and a Frenchman. There were 44 of us, we all knew each other very well. We discovered, we tried to build ourselves. There was no student association, we did everything, it was really nice and the school really trusted us. There was a real motivation from the school to build with the students, which I found quite remarkable. We were the first class so we had to set an example. We had a great responsibility during the internships and projects with the companies ».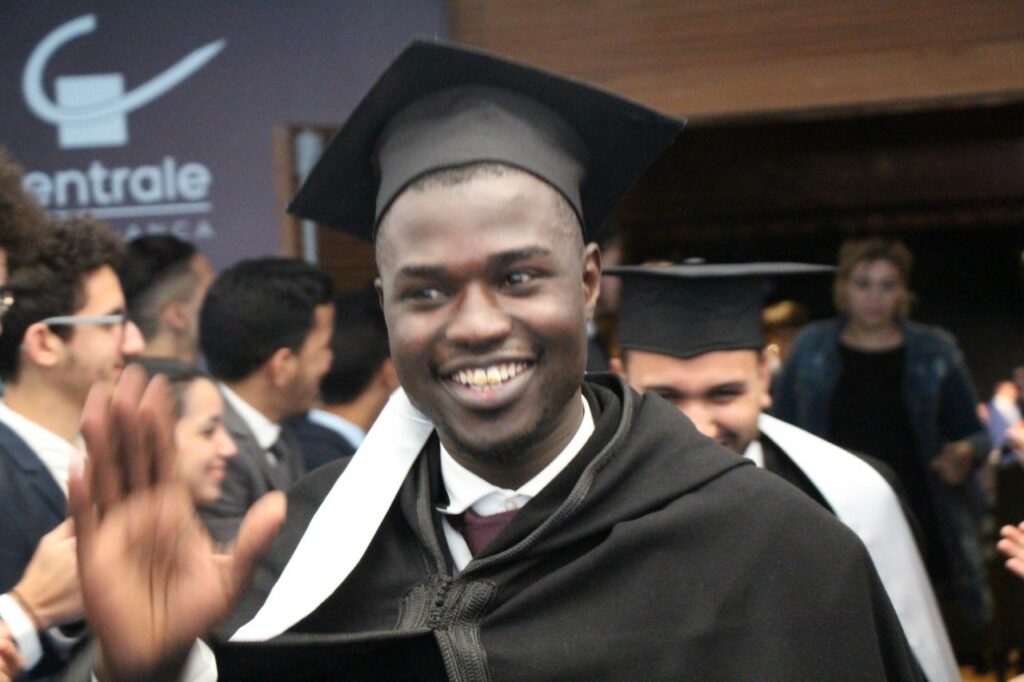 Fulgence Etienne Ndiaye, Senegalese, 2019 graduate of Centrale Casablanca.
Passionate about Mathematics, Fulgence obtained a Bachelor's degree in Applied Mathematics at the Gaston Berger University of Saint-Louis in Senegal before joining Centrale Casablanca and completing a Master's degree in Financial Mathematics at the Paris 7 University. He is now a quantitative analyst consultant at Lunalogic, a financial consulting firm. He looks back on his career: " at Centrale, I enjoyed the program and learned a lot. I thank all the donors and the CentraleSupélec Foundation for the people they helped and me in particular. What they are doing is very important and they may not realize the impact their actions have on the individuals who receive this scholarship. And there was also a feeling of pride, the scholarship allows you to be autonomous, pride in knowing that you are evolving in the right direction ».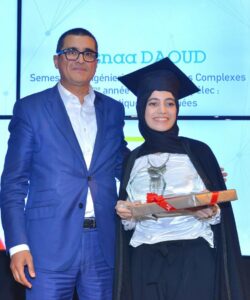 Hasnaa Daoud, Moroccan, 2019 graduate of Centrale Casablanca.
"When I asked around, I realized that Centrale is more company-oriented and that was exactly what I wanted to do. I wanted to do Centrale for this entrepreneurial dimension. I was part of the 2nd Centrale Casablanca class, a school for Africa: there were students from all over the continent. It was very interesting. I think Central was the best choice I could have made. "She adds, thanking donors for the confidence they give to young people, " Regardless of the amount of scholarship we receive, it has helped us focus on our studies and become who we want to be. The scholarship also allows us to save a lot of time that we invest in our studies rather than in the search for financing. "Hasnaa was president of the school's Junior Entreprise in her 2nd year, a member of the Forum association and Centract, the humanitarian association. Today, she is a Data Scientist at Silex Cognitive Sourcing.
CentraleSupélec abroad
After the creation of Centrale Beijing in 2005 and Mahindra Ecole Centrale in Hyderabad, India in 2015, CentraleSupélec continues to seek out new talent on other continents to train engineers capable of changing the world of tomorrow.
By setting up schools in other regions, it offers students the opportunity to become agents of change in their region and companies to recruit the best engineers locally.