Welcome to your Companies space
More than 150 corporate sponsors, 30% of which are SMEs and startups, currently support CentraleSupélec's training and research missions. Find out here why and how to join them !
The companies and the Foundation Foundation
CentraleSupélec is resolutely the school for companies, many of which have made a commitment to the School in order to be closely associated with its engineering training and research. They are also at the heart of the actions of the Fondation CentraleSupélec, via the research chairs, of course, and by supporting numerous projects that strengthen their links with our students and researchers.
"At CentraleSupélec, we have opted for a global approach to corporate relations, regardless of the entry point to the School. This positioning leads us to work in synergy with the Corporate relations and development Departement (DREV) and the CentraleSupélec Foundation

Contrary to what is observed in many Grandes écoles, the Foundation does not simply play the role of a "tax vehicle" for corporate financial support. It is much more widely involved with the Corporate relations and development Departement (DREV), for example by identifying prospects and targeting alumni who could help us carry out projects in companies. we are continuously working together, and the support of the Foundation allows us to implement many projects with high added value or the School and the companies. The creation of the AI Hub, in which the Foundation has been a key player, is a good illustration.
Gaëlle Lahoun
Director of the Corporate
relations and
development Department at
CentraleSupélec
How can you support the School through your company?
The CentraleSupélec Foundation offers you several ways to support the School, its students, its research and its entrepreneurship:
Sponsoring the School's training
To help you develop your image and your links with our future graduates and accompany them in the construction of their professional project.
Sponsoring a research chair
A commitment over 3 to 5 years to be associated with major innovations in research and training and to write the future of your business sector.
Make a corporate donation
To support all of the Foundation's missions for the benefit of the School and its students, or a specific program: research, scholarships, entrepreneurship, etc.
Build a customized project
To support a project that is close to your heart: research project, creation of a scholarship fund, investment in a startup…
Your tax advantages: corporate donations to the CentraleSupélec Foundation are 60% tax-deductible, up to a limit of 20 K€/year or 0.5% of your turnover before tax.
The proof is in these inspiring examples:
Eurofins, through its foundation, has chosen to act in favor of parity in scientific studies and careers by financing 2 Sébastienne Guyot scholarships: scholarships of €8,000/year for the 3 years of the engineering curriculum reserved for female students with limited resources and awarded on the basis of excellence.
Lusis, an SME specializing in payment systems and market finance, has joined forces with CentraleSupélec to create an Artificial Intelligence Chair dedicated to two main areas: payment fraud detection and trading. This is the first chair signed by CentraleSupélec with a French SME with high technological potential.
In 2020, companies contributed €2.5 million to the Foundation's missions. Among the many achievements of the year:
CentraleSupélec receives two awards for its corporate relations.
For the third year, CentraleSupélec won the Agires Synergie 2021 award for the best institution for strategy, professional insertion and career. The school was also ranked 1st in the 2021 Usine Nouvelle ranking for its proximity to companies.
With the aim of promoting AI "made in CentraleSupélec" by coordinating all of the School's related initiatives, this Hub makes it possible to involve companies in innovative projects at the crossroads of training, research and entrepreneurship.
The platform that accompanies students in the construction of their professional project, throughout their curriculum, by centralizing all their academic, pre-professional and associative experiences to better enhance their skills when looking for an internship and a job.
For any sponsorship project or for any question related to corporate donations, do not hesitate to contact :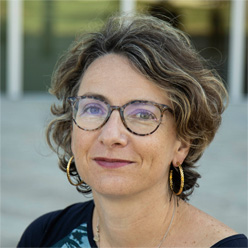 Nathalie BOUSSEAU
Director of the CentraleSupélec Foundation.
Major donor relations
phone. 01 75 31 64 04
Gaëlle LAHOUN
Director of
Corporate relations
and development Departement
phone. 01 75 31 68 76