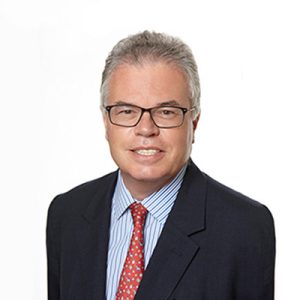 An engineer from the École Centrale de Paris (class of 1981) and a graduate of the Institut d'Études Politiques de Paris (1982), Bernard Gault was appointed President of the CentraleSupélec Foundation on May 17, 2022. Bernard Gault replaces Georges Chodron de Courcel as President.
Bernard Gault began his career in the industrial affairs department of Compagnie Financière de Suez in Paris in 1982. As an authorized representative and then deputy director, he was involved in managing the Company's portfolio of industrial and service holdings.
In 1988, he became an advisory banker for France and Belgium in the investment banking division of Morgan Stanley. Co-founder of the bank's Paris office in 1991, he was appointed managing director in 1993 and head of the European team of Morgan Stanley Capital Partners, the bank's private equity fund in 1998.
In 2006, he and seven other partners founded the investment bank Perella Weinberg Partners, which today employs 650 people in the United States, London and Paris. Since 2016, he has pursued a career as an investor and director. He was president of Anya Hindmarch and a director of Balmain. He is a Director of OVH Cloud and Director and CEO (interim) of Elior Group.
A long-standing commitment to the Foundation
At the CentraleSupélec Foundation, Bernard Gault was president of the Foundation's campaign committee from 2015 to 2020. As president, his mission is to support the Foundation in the respect of its primary missions, while ensuring its development in the face of new challenges.